The four-day annual technology event CES 2022 came to an end. Top technology companies from around the world showcased their latest technological achievements. We also witnessed new released of smartphones, personal computers, home appliances, smart homes, smart travel and VR/AR,etc.
Nokia's new low-end mobile phones
HMD Global released four Nokia Android phones at CES 2022. The cheapest Nokia C100 is priced at only $99, the C200 is priced at $119, the G100 is priced at $149, and the G400 is priced at $239.
12th generation Core mobile processor
Intel is fully entering the new 10nm process era on both desktop and mobile, and all mobile processors use the company's new hybrid architecture. Among them, the most powerful i9-12900HK has 14 cores (6 performance cores and 8 efficient cores) and 20 threads, with a frequency of up to 5GHz, which is 40% faster than the previous generation flagship mobile processor.
Ryzen 6000 series processors
The Ryzen 6000 series mobile processors will be equipped with an integrated graphics core of the RDNA 2 architecture, coupled with DDR5 high-frequency memory to further enhance the performance of the core graphics. AMD claims that the new core graphics can play most of the 3A masterpieces at 1080P resolution, not only in Mobile productivity will perform better and is more suitable for light gamers.
ThinkBook Plus Gen3
Lenovo opened its mind and embedded an additional secondary screen directly into the C side. The size of the secondary screen is approximately equal to a 7-8-inch tablet, and it also retains the full keyboard size and trackpad. In order not to appear strange, the whole machine had to be designed in a 21:10 ratio. Users can write and draw freely on the secondary screen, and directly interact with the main screen through touch. Combined with the Android application function of Windows 11, it can even temporarily act as your phone interface.
ThinkPad Z13、ThinkPad Z16
There are multiple versions including plain leather and recycled aluminum, and they are all made of renewable resources. The touchpad physical button, one of the classic designs of the ThinkPad series, has completely disappeared from the Z series this time, and the classic ThinkPad series is still preserved. The small red dot design, but with a new touchpad and palm rest design: the entire palm rest is made of glass, and then a 120 square millimeter touch feedback touchpad is embedded in it.
XPS 13 Plus
Dell completely rebuilt the C-side on this additional flagship product, completely hiding the touchpad in the palm rest area, and moving the buttons including function keys and F1~12 to the capacitive touch area above the keyboard. You might think the entire palm rest has become a trackpad, but it's actually still in a familiar place, with vibrating feedback when you touch it. Dell claims that this design will not affect use, and users can quickly get used to the new trackpad.
Zenbook Fold 17
The Asus Zenbook Fold 17 is equipped with a 17-inch foldable touch screen, which may be the largest folding screen laptop to date. It still provides a 12.5-inch screen display when folded and the lower half transforms into a touch keyboard, similar to a traditional portable laptop. ASUS also provides an external keyboard accessory. When attached to the other end of the folding screen through a magnetic structure, the screen will automatically transfer to the screen on the other side.
HP Elite Dragonfly Chromebook
HP took a swipe at a high-end Chromebook with four speakers, 2K resolution, 32GB of RAM, and Gorilla Glass. After several years of iterative updates, Chromebooks have occupied a lot of shares in the education market and entry-level market, but they are almost absent in the mid-to-high-end market. I wonder if this product can bring changes.
2022 Sony BRAVIA XR TVs
The naming specifications of the new TVs are mostly continued from the previous year, and the suffix letter has been changed to K, which represents 2022. High-end TVs have deeply polished the image advantages of the XR cognitive processor, and the relatively friendly X85K/X80K still uses the X1 chip. Z9K and X95K are Mini LEDs. The former has reached the top 8K resolution. A95K is the first to introduce QD-OLED with quantum dot characteristics. The color saturation is 200% of mainstream products.
Samsung Home Hub
Major manufacturers are releasing smart home control centers other than mobile phones and TVs, and Samsung has brought Home Hub, which can view and manage devices, although it looks like an 8.4-inch tablet with a base (in fact, Samsung does not avoid this). Samsung also announced that it has joined the HCA alliance in which Haier and other manufacturers participate. In the future, it can control many smart home appliances such as SmartThings.
Freestyle Portable Projector
The Samsung Freestyle portable projector has a unique shape, can be corrected in four directions (oblique projection), supports up to 1080P image output, can output 30-inch to 100-inch images, has unknown lumen parameters, supports voice control, and is priced at $899. Samsung said it will launch in other markets outside the U.S. in the coming months.
LG One Quick Flex
LG One Quick Flex is a product with a very special shape. It is more like a large-screen entertainment center in terms of usage scenarios: it does not have a huge screen, and it is installed on a removable stand by default instead of hanging on the wall. Users can use it at home and at work. Use it in as many ways as possible in any of your scenarios, such as video chat, visualized fitness, meeting recordings, and the usage changes flexibly with the scenario.
Hisense 8K laser display technology
Hisense said that after the laser display is upgraded from 4K to 8K, it can maintain the same power and efficiency, and it is more energy-saving and environmentally friendly. Hisense launched a 120-inch three-color laser TV at the CES exhibition. Compared with a 100-inch laser TV, the screen is enlarged by 44%, the brightness is maintained at 430 nits, and it covers 100% of the BT.2020 color range. It is the world's first laser TV with the above performance product.
Google's "Better Together" campaign
It is committed to making all the devices of the user work together. The core of this technology is the mobile phone, and the peripheral devices include TVs, watches, tablets, laptops, smart cars, smart home products and so on. The "Fast Pair" function can connect a true wireless headset to multiple smart devices and play audio intelligently.
BMW iX Flow color changing body
The "color-changing car paint" car color-changing scheme is developed based on "electronic ink" technology (E-ink), which can manufacture "electronic ink" of different sizes according to the pattern and the curvature of the car surface, which contains millions of The transparent microcapsules are only the thickness of a hair in diameter. Each microcapsule contains a negatively charged white pigment and a positively charged black pigment. By controlling the electrodes on both sides of the microcapsule, the desired color can appear in the on the body surface.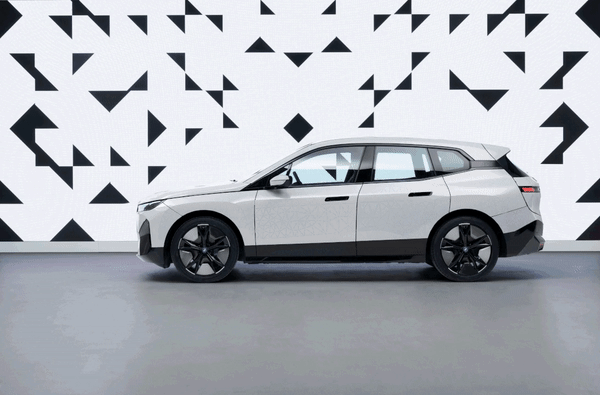 Pure electric SUV concept car VISION-S02
Sony exhibited its new concept car VISION-S02, announcing that it will establish Sony Mobility Inc this spring to be responsible for the commercialization of Sony's electric vehicle business. This also means that from this moment, Sony officially entered the automotive field.
DRIVE Hyperion 8
The Drive Hyperion 8 platform is powered by NVIDIA's Drive Orin chip, complemented by 12 surround cameras, 9 radars, 12 ultrasonics, 1 front-facing lidar, and 3 internal sensing cameras. They form a powerful autonomous driving system to provide cars with more intelligent and safe autonomous driving functions. Polestar, Xiaopeng, Weilai, Ideal and many other Chinese electric vehicle manufacturers will adopt related technologies.
Snapdragon Digital Chassis
At this CES, Qualcomm showcased its "family bucket" for smart cars, including digital chassis, advanced driver assistance systems, car connectivity services, and car cloud services. The Snapdragon Digital Chassis consists of a suite of open and extensible cloud-connected platforms that leverage a unified architecture to deliver enhanced safety and immersive digital experiences, and also to support functional upgrades for next-generation vehicles throughout their lifecycles .
EyeQ Ultra SoC
After Intel officially acquired Mobileye, at this CES, it released the EyeQ Ultra, which has a computing power of 176TOPS and is expected to achieve L4-level autonomous driving. Intel calls it a single-package autonomous driving designed for end-to-end autonomous driving. Automotive integrated chip supercomputing platform, while Volkswagen, Ford and Krypton announced that they will cooperate with Mobileye.
Panasonic Eye Tracking AR-HUD 2.0
This function is realized by an infrared camera packaged with AR-HUD and optical devices. It recognizes head position and movement through ETS technology, dynamically adjusts and compensates the image in the field of view, and can see accurately and without moving the head and changing the line of sight. Clear, high-resolution icons. It can project large images at a distance of up to 10m, can identify objects in front of the car, and also supports driver monitoring functions such as fatigue monitoring and distraction monitoring.
Marelli's next-generation automotive solutions
Marelli's next-generation automotive solutions include lighting, sensing, electronics, interior and electrification components, including radar-integrated headlamps and illuminated front panels, cockpit domain controllers with integrated CDC at CES The flexible Dyna-View 24" wide display can manage two operating systems and four displays. In charging technology, there are technologies to manage, control and optimize the flow of thermal and electrical energy, including 800V motors.
PlayStation VR2
Following the launch of the original PS VR in 2016, Sony finally announced the arrival of the PS VR2 during CES 2022. Compared with the original product, PS VR2 uses a 4K OLED screen, supports 120Hz refresh rate, and is equipped with the latest eye tracking and head-mounted device feedback technology. The functions and configurations are greatly improved. Horizon: Call of the Mountain, players are looking forward to it.
My House
The "Metaverse Platform" My House was launched by Samsung and NAVER. Users need to log in through the Zepeto app. According to Samsung, it allows consumers to experience the charm of the Metaverse more intuitively. In fact, this is a virtual space for Samsung to display smart home products. Users can chat with other exhibitors, or buy ice cream and decorate their homes. Essentially, it is a "sims" with limited content.
Although this year's new products come from different fields, there is an obvious commonality – chip technology has played a key role in product advancement.
It is precisely because of the improved energy consumption ratio of mobile chips that notebooks can be thinner and thinner, and have more forms, and VR/AR has more possibilities; it is precisely because of the explosion of artificial intelligence chips that smart cars can achieve computing in just a few years. The double promotion of power and experience…
In addition to the exciting news, the lack of comprehensive chip production capacity and the limitations of the manufacturing process are still a dark cloud over technological innovation. Whether the new products exhibited at CES 2022 can successfully reach consumers, and whether future exhibitions can bring How many changes come, it is also necessary for the chip industry to find suitable answers for itself.